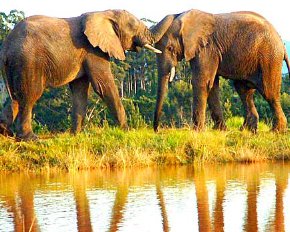 browse (1 / 6)
There are 2 Elephant parks in the Garden Route, the large Addo Elephant Park and the small Knysna Elephant Park. Get up-close-and-personal with the earth's largest living land mammals. The Knysna Elephant Park offers a rare and exciting opportunity to get close to these magnificent creatures. The well-informed, friendly guides will teach you all about the sad and mystical Knysna elephants, the world's Southernmost elephants. Guests are transported to the elephants on a tractor-trailer where they have the opportunity to touch, feed and take photographs. Buckets of fresh fruit and vegetables are available for purchase so that guests are able to feed the elephants and ensure the best possible interaction. There are no barriers or fences to spoil the close encounter but this can be a bit unnerving for some. Guests are then transported back to a unique elephant curios shop and the quaint restaurant.
More than a century ago there were an estimated 500 elephants roaming freely in their natural forest habitat. Sadly, due to human greed and ignorance, there are only 3 reported surviving in the ever dwindling forest, making the future of the Knysna elephant seem bleak. Nothing could be more gratifying than hand-feeding one of these gentle giants. All the elephants in the park are orphans rescued from culling operations in the Kruger Park, except for young Thandi who was born in the park.
The Knysna Elephant Park was established in 1994 in remembrance of the struggle the elephants endured in the Knysna forest. The park spans over a 60 hectare camp on which the elephants have free range during the day. At night the elephants are housed in a boma. The camp has an abundance of natural vegetation for eating and a few big sturdy trees for rubbing up against to alleviate dry, itchy skin. It also includes two large dams for drinking and splashing about for some fun in the sun. Elephants love to cover themselves in muddy water to keep their body temperature down on hot days.The park boasts some of Africa's most qualified elephant minders who keep a watchful eye on the herd.
Some interesting facts about elephants:
• An adult elephant's brain can weigh anything between 4.5kg and 5kg
• An elephant heart weighs between 12kg and 21kg.
• On average it takes 24 hours to digest a single meal.
• Elephants only digest about 44% of their total food intake.
• African elephants have the biggest ears in the world, measuring up to 2 meters from top to bottom.
• A newborn elephant calf can weigh up to 120kg at birth.
• A adult elephant can eat between 100 - 200kg of vegetation per day.