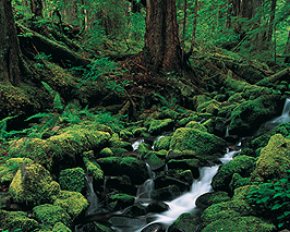 browse (1 / 4)
The Garden of Eden, is an enchanting wet forest, near Knysna on the Garden Route. This is one of the most lush and beautiful parts of the Knysna forest and definitely a must-see when visiting this gorgeous region. This part of the Garden Route is characterized by fairytale forests, serene lakes, breathtaking golden beaches and marvelous rivers - making this the perfect place for a variety of outdoor activities. The Garden of Eden is situated in the middle of all it all, so take this opportunity to a break from your action packed holiday to experience a bit of paradise.
The entrance to the Garden of Eden is well marked from the road, so just follow the signs from Knysna and you will easily locate it. A small entrance fee is required at the entrance. This is used towards the conservation of the area and to regulate the thousands of visitors that flock to this natural heaven every year. The "garden" is only open during certain hours and this is dependant on seasonal factors, so be sure to check with the local tourism office before setting off. There are various walking trails in the "garden", so it is up to you whether you just want to take a leisurely short stroll, or spend a few hours exploring the garden's surroundings. The various information boards are very helpful in identifying the various plant, bird and small animal life in the "garden". There are also some wooden paths to make the walk easier, making this is the perfect activity for elderly visitors and families with small children.
Except for the entrance gate and the walking trails, this "garden" is virtually untouched so you can imagine how it used to be like when wild animals lived there. So come experience this little bit of paradise in the heart of the Garden Route.