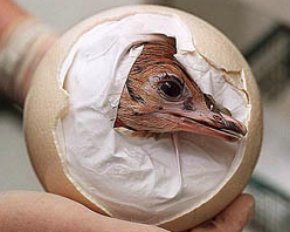 browse (1 / 5)
Ostriches are the biggest birds in the world, and here in Oudtshoorn, South Africa you have the opportunity to get up close and personal with these amazing creatures.
Oudtshoorn is a friendly, little town situated about 55 kilometers from the coastal town of George. Stay in one of the town's hotels, lodges, towns or guesthouses. Alternatively you can stay on one of the local ostrich farms and enjoy a truly relaxing and educational visit.
You will have a truly hands-on experience of these fantastic birds when you visit any of the local farms. Most of the farms will offer guided tours, and are also very visitor-, disabled and child friendly. Visitors will be given interesting information about the ostrich industry in South Africa. They will also be able to come into direct contact with the ostriches, with a lot of the farms giving them the opportunity to touch the ostriches. At some of the farms, you will even be able to sit on the ostriches, or ride them!
The size of these birds is truly amazing! Adult male ostriches are between 6 and 9 feet (1.8m x 2.7m) at maturity, with females being between 5.5 and 6.5 feet (1.7m x 2m). Adult ostriches can weigh anything from 90kg to 130kg. Mating generally occurs between May and September. After the male has made a sufficiently deep hole in the ground, the female will lay one egg each day until she has laid 10 to 15 eggs. Ostrich eggs are the biggest eggs in the world-an average egg is about 15cm long, 12cm wide and weighs about 1.5kg!
There are many other ostrich products, in addition to ostrich eggs, that are popular amongst tourists and locals. Ostrich feathers are used in fashion and domestic products like dust busters. Ostrich meat is a very healthy alternative to red meat-with the color, flavour being similar to red meat, but having fewer calories. Ostrich leather is used to make various items like shoes, jackets and bags because of its supple, yet strong quality. Visitors will be able to learn about all these products, and be given a chance to purchase some original items.