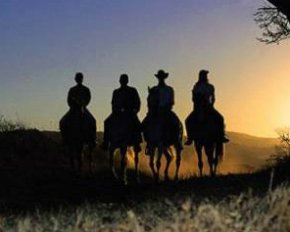 browse (1 / 6)
There is no better place in South Africa than The Addo Elephant Park">Addo Elephant Park, to experience a horse trail. You need not be an experienced rider to enjoy this trail. Trails can last up to three hours long, and are all led by experienced tour guides. This is a great way to learn and experience African flora and wildlife.
Imagine yourself riding alongside an elephant or see a rhino grazing in the long African grass, this is truly a breathtaking, unforgettable experience, one you and your family will enjoy.
Choose to do an overnight stay on a trail, this is a great opportunity to enjoy Africa's beauty and surroundings at its best,and learn few more new things about Southern African wildlife. Addo horse trails allows the adventurous guest a close personal encounter with nature, traversing large areas of unspoiled bush and wildlife on horse back.
See the two different horse trails listed below. Book now to avoid disappointment.
Addo Horse Trails
The morning ride (08:00) is for the inexperienced riders and is two hours long horseback ride into the wilderness. The afternoon ride (14:00) is for more experienced riders and is three hours long horse back ride.
You are please to go to stables at plus minus 15 minutes before the horse trail begings.
Every horse trails are attended by highly tour guides on confident, highly-trained horses.
Visitors may use the ridding hat that are available for usage.
There is an age restriction on the horse no children younger than 16 may ride in the horses.
Addo horse trails leaves from main camp to the Nyati area which is land of the elephants,buffalo, black rhino, zebra and antelope.So there will be plenty of game viewing along the way.
Zuurberg Horse Trails
Zuurberg horse trails are suitable for riders of all experience. Wind through out fynbos and forest.
There are three trail durations One-, three- and five-hour trails are available.
One-hour trails leave at 09:00, 11:00 or 14:00.
Three-hour trails leave at 09:00 or 11:00.
Five-hour trails leave at 09:00 only.
A stay over night trail to Narina Bush Camp is optional – leaves no later than 11:00.
No children under the age of ten may ride.