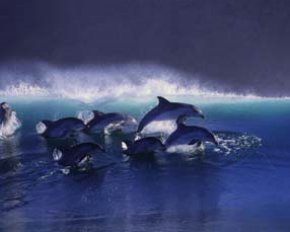 browse (1 / 5)
Over in Plett, a huge draw card for visitors is the frequent occurrence of inquisitive dolphins who seek out bathers whilst swimming. While keeping some distance, these curious mammals delight swimmers with tricks and squeals – a memory of a lifetime just off the Plett's waters. Humpback whales are often spotted on their way to warmer waters and the odd Southern Right whale can be spotted too. In one sighting trip, boats often spot both dolphins and whales – while the more adventurous can try motorized glider flights for an incredible birds-eye view. And of course, there are the dozing seals which are seen in their thousands off the Robberg Peninsula, soaking up the sun and the beauty of their surrounds.
Trips are made daily, weather permitting, taking a maximum of 12 adventurers on a roughly 3 hour trip. We launch all year round, weather permitting, from the Nature Conservation Jetty on the Knysna Lagoon. The cruise times are 9.00am, 11.30am and 2.30pm, but we ask you to confirm this with each booking, as times do change according to weather.
Take a spectacular journey to the Knysna Heads, enter the Indian Ocean and the world of whales and dolphins awaits you.
First they head out to the spectacular Nine Castles of Noetzie, all the while searching for sightings of whales and dolphins - then we cut across down past Brenton to Buffalo Bay. Unique to Buffalo Bay are the resident Humpback dolphins, living unusually in a large group of around 35! These shy, endangered dolphin are an extraordinary site to see - with a backdrop of the Goumma Nature Reserve, this experience will take your breath away.
All the whale and dolphin watching vessels are fully licensed and skippered by professionals, ensuring your safety and enjoyment. Approved by Marine Safety Authorities, they have been custom built and designed especially for the Indian Ocean.