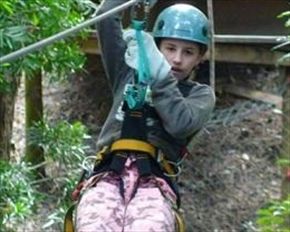 browse (1 / 2)
The Western Cape of South Africa is undoubtedly the country's most spectacular natural paradise boasting a scintillating and resplendent canvas of undulating fertility, wild and indigenous flora, and incomparable scenery. It is a nature lover's dream come true and emphasises the unbelievably raw aesthetic beauty South Africa has become renowned for. If you're a great fan of the Great Outdoors and are looking for a new way to discover the many pleasures and thrills of this part of the world, then a Treetop Canopy Tour is ideal for you.
A typical Treetop Canopy Tour consists of 10 slides and 10 platforms that make its way through a forested valley or a rocky gorge; patrons reach each platform courtesy of a suspended steel cable. The Cape version of the Treetop Canopy Tour is found in the magnificent Tsitsikama forest at Storms River, approximately 45 minutes from the holiday enclave of Knysna, and consists of 10 platforms and 10 slides, the longest of which is 100m. There are two other locations for such sojourns with the Cape one being the oldest of the three.
The Cape Treetop Canopy Tours are fun and adventurous stemming from biologists who needed to find a way to access the plants they wanted to study that were found in the deepest and most mysterious parts of the forests. After figuring out how to get to where they wanted, these biologists soon discovered an unbridled joy and passion of combing through the forest in this way and, as a result, canopy tours came into existence. This is truly a proudly South African pastime as there are very few places in the world that offer this kind of an experience. For those first-timers, they need not worry; canopy tours are fully briefed and chaperoned by expert guides, and patrons are kitted with all the necessary safety features ensuring your Cape Treetop Canopy Tour is one of the most memorable expeditions you will ever encounter!