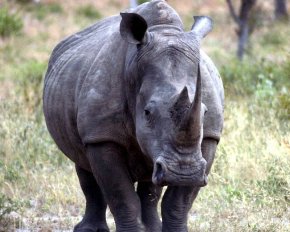 browse (1 / 5)
Rhino Base Camp is an exclusive and luxurious game reserve consisting of 1300 ha of mesmerizing natural beauty, and expertly situated about 15 minutes from Plettenberg Bay, on the Garden Route. By visiting this spectacular game reserve, you are able to get up close and personal with a very wide variety of wild animals by partaking in any of the well organized game drives or horse safaris. You needn't travel to the northern province of South Africa to visit a game reserve of world class quality. Rhino Base Camp has all you need to experience a truly African wildlife park, in the heart of the Garden Route.
Experience the thrill and excitement of viewing the more than 800 wild African animals in their natural environment. Animals that you might encounter include rhinos, lions. buffaloes, eland, many kinds of buck, bush pigs, and the resident leopard. There are also a wide variety of smaller animals at the game farm. This exclusive retreat is also a bird lover's paradise, as more than one hundred bird species have been spotted by the local bird society. Both the game drive and the horse safaris are very affordable, and take approximately two hours. Children can also take part in these activities, as there will be a team of well trained guides accompanying all trips, so parents can rest assured.
Except for the game viewing, Rhino Base Camp is also the perfect location for functions like weddings, birthdays, etc. About 180 guests can be accommodated, and the reserve's staff can do all the planning for the event, if so required. The reserve's expert chef can arrange a special menu for the day, and a wedding planner can be contacted by the staff, thus making the planning of your important event as stress free and enjoyable as possible.
Rhino Base Camp really is much more than just a game farm.