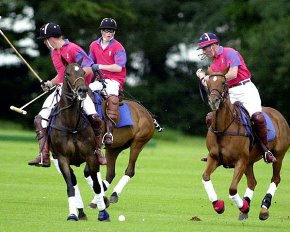 browse (1 / 4)
South Africa is one of the most popular tourist destination in the word-mainly because of the country's impressive natural beauty and wildlife. Recently, tourists have been coming to South Africa for a variety of other reasons as well. Polo tourism is at an all-time high, with especially the Garden Route, about 400 kilometers from Cape Town, offering exciting venues and world-class facilities.
Polo has been played in South Africa for over a hundred years. Well-established polo tournaments include the BMW International Polo Tournament in KwaZulu-Natal, the Inanda Polo Tournament in Johannesburg and the Kurland International Tournament in Plettenberg Bay. It is the superb polo clubs in Plettenberg Bay that most of the tourists visit. This is largely because of the amazing natural surroundings of these clubs. Visitors can take a short break from their beach holiday to watch, or play their favorite sport in a area renown for its beautiful white beaches, amazing marine life and impressive rivers.
Kurland Estate is situated just outside Plettenberg Bay. It is relatively new, but already on the map with regards to popular polo clubs. It is situated on a 700 hectar estate, with four boarded fields, a 50m x 100m arena, fully equipped stables, a veterinary clinic, a big sand exercise track and paddocks for about 300 horses. There are various activities for the children as well; making this the perfect place for a family outing. If you tire of watching from the sideline, you can take a few lessons from one of the polo professionals. Your lessons will be tailor-made to fit your specific skill and energy level. You will also be able to take leisurely beach, forest or pasture rides.
You can also choose to combine your polo experience with a safari trip. There are various excellent wildlife parks within a short drive of many of the polo clubs. Come experience Polo in one of the most beautiful settings in the world!