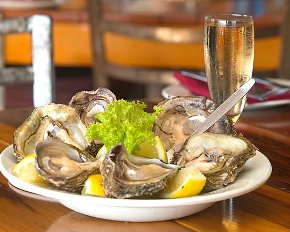 browse (1 / 4)
Knysna has always been famous for its wonderful selection of good quality and affordable seafood. There is nothing better than eating deliciously prepared fresh seafood and overlooking the ocean from where it came from. In Knysna, there are many great seafood restaurants to choose from, with delectable oysters always a popular item on the menu.
Oysters have always been called the "the food of love." There is a well known American saying, "Eat oysters and love longer." The Greek goddess of love, Aphrodite, sprang out of the ocean in an oyster shell, and gave birth to Eros, thus the term "aphrodisiac" was born. So oysters have always been linked to love and passion. The oyster's love life itself is very interesting. Oysters reproduce during the summer months and change sex every time. Except for boosting your love life, oysters are very healthy and nutritionally well balanced. They are a very valuable source of important minerals, like zinc, calcium and copper. They are also rich in iodine and very low in cholesterol.
The gorgeous coastal town of Knysna is also known for its many oyster farms. There is an annual oyster festival at the end of July that celebrates this delicious delicacy. There are various activities that focus on oysters, like oyster tastings, oyster barbecues and oyster-eating competitions. There are also other general activities at the festival, including cycling, running, canoeing, downhill racing and sailing.
So love longer, live longer and look younger this holiday in Knysna by sampling our most popular seafood delicacy-oysters.