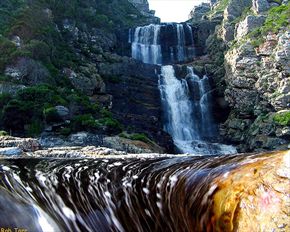 browse (1 / 6)
The Otter Trail is undoubtedly the best known and most popular hiking trail in Africa, and ranks alongside the best trails in the world. The 42.5km trail follows the spectacular Eastern Cape coastline from Storms River Mouth to Natures Valley in the Tsitsikamma National Park.
The Otter Trail takes five days to complete following the rugged, rocky shoreline ranging in elevation from sea level to a height of more than 150m. The trail follows cliff tops returning to sea level to cross big rivers such as the Elandsbos and the Bloukrans River.
Hikers report to the park reception on arrival at Storms River Mouth, which is located close to the park entrance. Here one books in and settles the conservation levy before seeing a video presentation on the trail.
Age and Fitness
Ages between 12 to 65 years are allowed on the trail. One must be prepared to hike up to 13 km a day, over rough terrain, steep ascents and descents and under all weather conditions.
A fair degree of fitness is required as there are some steep sections, which together with a backpack can become tiring, especially after a few hours of hiking.
Time and Distances for the Otter Trail
The trail is 5 days and 4 nights. The following distances and durations are as follows:
• Day 1 = 4.8 km (± 2 hours)
• Day 2 = 7.9 km (± 4 hours)
• Day 3 = 7.7 km (± 4 hours)
• Day 4 = 13.8 km (± 6 hours)
• Day 5 = 6.8 km (± 3 hours)
• Total Distance = 42.5 km