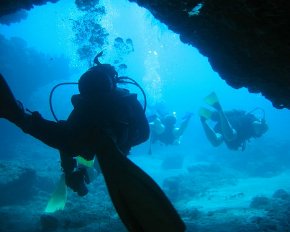 browse (1 / 8)
Do you recall a time when your parents and friends could'nt get you out of the water? No amount of hot dogs, chocolates, or candy would get you to leave that pool or the sea. You once reigned in the stories of magical books like 'Water Babies', you too were an invincible magical character playing games of make believe, letting the imagination run wild in your fantasy land,while effortlessly excercising in the water.
Well grab your goggles and fins and get going. The Garden Route has a number of hot spots and even guided tours for you to see and conquer. Get in that water,kick away and enter into a real life marvel, a fantasy land,a liquid land filled with wonder and beautiful sea life, best place to dissapear to if you're done with the land,if you want to investigate what lies beneath... you will discover deep caves, soft corals, anemones, tropical reef fish and many more.
You go on some tours and you can even check out a variety of sharks-although I'd rather not.Scary! I'll leave it to you daredevils out there. Mossel bay and Knysna both have dive shops.