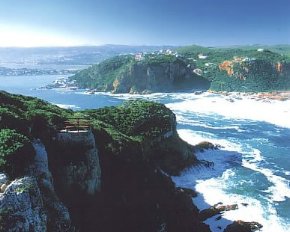 browse (1 / 4)
Visit one of South Africa's Natural Heritage Sites- the breathtaking Featherbed Nature Reserve in Knysa. It is situated near Plettenberg Bay and forms part of the enchanting Garden Route of South Africa. This beautiful 150ha private nature reserve includes the western head of the infamous Knysna Heads-the two huge sandstone cliffs that mark the border between the ocean and the Knysna River. You will have amazing views of the whole area, whilst being totally surrounded by the diverse flora.
This is truly the nature lover's paradise as there are various walking trails to enjoy. You will be able to view some of the area's most enchanting wild animals, including the Blue Duiker-the smallest antelope species in Africa, the impressive Southern Right Whale and the mysterious Knysna Loerie bird. The stunning "Beachcomber Caves" are also very popular among visitors.
There are many activities for the whole family to take part in. You can take a luxury cruise on one of the pleasure boats around the nature reserve and to the Heads to see the whole area from a unique viewpoint. Full bar facilities and a variety of snacks or meal options are available on most of the boats. The more adventurous visitor can enjoy an exciting canoe trip across the Knysna Lagoon to the nature reserve. Abseiling is another popular activity, with the Beachcomber Caves (30m high) and Needlepoint (55m high) being popular spots. The beach below is rocky, and you have to take care when taking part, but the spectacular surroundings and viewpoints make it all worthwhile.
The Featherbed Nature Reserve really is the perfect spot for relaxing or taking part in one of the adrenaline pumping activities that are available