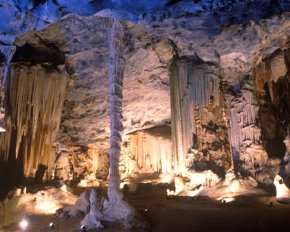 browse (1 / 6)
The Cango Caves are situated in the heart of the Little Karoo 26 km north of Oudtshoorn close to the Garden Route, Cape Town. About 10 000 years ago, the Khoisan used the entrance area of the cave as shelter. Way back in 1780, a farmer named Mr Van Zyl, ventured past the cave entrance, lowering himself underground into the unknown, by the dim light of his burning torch he saw glistening shapes that hinted at a subterranean wonderland.
The Cango caves
should be known as the 8th wonder of the world. The area that Mr Van Zyl had lowered himself into is called the 1st great hall, which is 98 m long, 49 m wide and 15 m high. As millennia pass, layer upon layer of mineral deposits form features called dripstone, - weird growths that hang from the ceilings of the cave or grow from the floor base. There are several types of dripstone; stalagmites (which grow upward from the cave floor), stalactites (hanging columns from the ceiling) and helictites (needle like features which grow in all directions). The caves have been illuminated with electric lights since 1929 making it easy to negotiate uneven pathways and stairs. The temperature in the caves is a warm and humid 18 ºC, so wear light clothing.
In 1972, three professional cave guides broke through to a breathtaking underground fairyland, a 270-metre extension of the sequence, Cango 2. In 1975, another extension of about 1600 metres, was discovered and named Cango 3. Cango 2 and 3 are not open to the public. This is to preserve the pure, crystalline beauty of the dripstone formations found within these chambers. The pristine magnificence of the crystalline formations and natural colours are still intact and far surpasses that of Cango 1.
Children under the age of 12 have to be accompanied by adults. Comfortable footwear is recommended when caving.