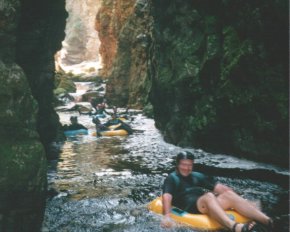 browse (1 / 3)
It's the middle of Summer, it's a lovely hot day. Some might say a little too hot. When the heat kicks in, the need to escape it, or 'cool down' kicks in even more so. The beach is great, but you've had enough of lying seaside catching a tan followed by a little dip in the water. You have decided you want to do something exciting, an adventure of sorts, but in the water. It seems you have decided the only the only way to please the endorphins and need for excitement is to go cruising down a river at high speed.
You would not be the only one to enjoy this black water tubing. So for those like myself who are seemingly clueless in this department apparently you begin by climbing down a 'rope ladder' into the canyon [apparently almost inaccessible] so you wont have to many onlookers by the sounds of things, nice for the inexperienced ones [ aka , myself ] then depending on the depth of the water you may be able to try your luck on a few rapids or even jump into the black water [daunting isn't it] all under the supervision of your handy guide. Then comes the good bit- you get to drift along the calm pools, great in terms of meditation and relaxation, but this bit only comes after the clambering on rocky outcrops - a reward nonetheless.
While relaxing don't forget to take in the beautiful scenery. Good luck!
Blackwater Tubing is the ultimate Storms River Gorge experience in Tsitsikamma.